3G Wireless System Overview:
EMS Provides Fast, Reliable & Secure Wireless Automatic Refueling System (WARS) for refilling service stations. It is the most stable & flexible Wireless system available in the market.
The system supports continuous, real-time fuel management over virtually any communication platform, which provides better accountability and system security.
The system can be implemented on any forecourt management solution it can easily adopt any integration to any forecourt controller.
Wireless Automatic Refueling System is a complete Wireless solution based on Radio Frequency Identification Technology (RFID).
How 3G works
A vehicle with its VID and Odometer enters a station where the wireless system installed. A nozzle with its reader inserted into vehicle tank fuel inlet. Communication started and vehicle ID sent to back office controller and waits for confirmation. After checking the database to see the validity of this ID and the allowed quantity to fill, a confirmation is granted. The back office controller opens a transaction and the dispenser starts refueling. All of this process happens in a time less than 2 seconds if all recommendations are followed up exactly.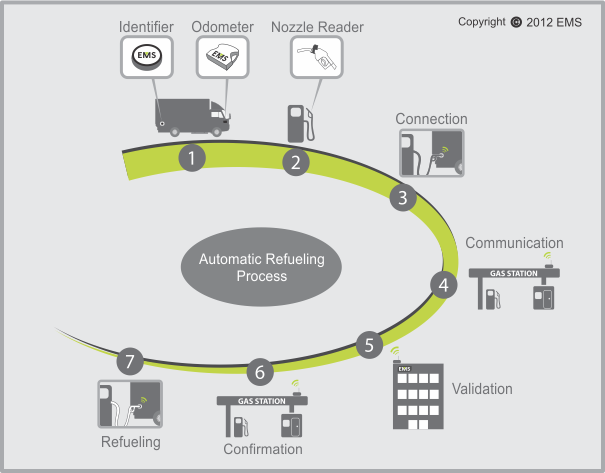 3G wireless refueling process.
Help you save money, grow your revenue, streamline operations, and minimize financial risks.
For more information please contact us